Behind the scenes of The Game of Couture, fashion editorial for Switch Magazine.
Let me introduce you to Switch Magazine. Since 2016 I have been working with this wonderful magazine, which was launched in my city, Bologna, and is distributed worlwide.
I take pride in the collaboration with Switch Magazine since, beside being a fresh and well-structured magazine, it focuses on young professionals in the fashion system, giving them fair room and visibility. These latter, of course, must be earned, for the sake of the magazine's reliability. Thus, commitment, resolution, creativity and professionalism are key qualities in the production of editorials.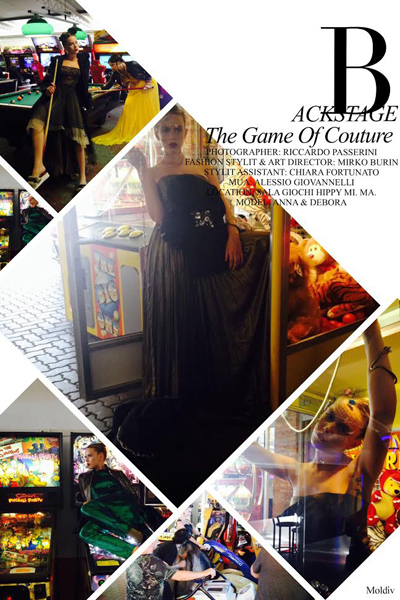 LET'S GO BEHIND THE SCENES OF "THE GAME OF COUTURE"
I was given, as a theme, "couture and high fashion". At once I started thinking of a beautiful house, of an elegant location or fo the world of fairy tales and princesses; because, let's be honest, who buys and wears a couture dress wants to feel a little like a princess.
But then I stopped and thought to myself: "Could that be any more obvious?! Can't I think of something more playful and less predictable!" So, I brought couture to Milano Marittima, concentrating not on its luxury hotels or prestigious clubs, but on its most historic amusement arcade. Sala Giochi Hippy: huge, full of colours, vintage yet modern at the same time, cozy. For this kind of photoshooting, where you wish to project quality and create great photos,  the location plays a key role. (If you wish to know more on the importance of locations, you may refer to the Travel section in the blog mywhitebox.)
Once I proposed the idea to the amazing team I wanted to shoot with (Do you remember of the difference it makes to have a great team, in my previous post?), all of us started enthusiastically planning the whole thing thoroughly: Riccardo Passerini, the photographer and Alessio Giovannelli, make-up artist.
You don't want to know how stuffed my car was!
There were voluminous dresses, hats, shoes, accessories… and again, clothes! Not to mention the huge garment rack to hold them all! As soon as we got to our location, we took over the amusement arcade: garments, make-up, hair-dryer, hair straighteners and lights modified in a blink the pop and happy-go-lucky scenery of Hippy: from amusement arcade to a photo-shooting set in a few minutes. Riccardo immediately started looking for the right spots, I started creating the looks and Alessio started making our models even more beautiful. Once ready, we decided together where to shoot the several looks and how to adjust them to the location.
What's more fun is that we did not just take pictures with video-games, but we played too! In the end, it was an intense work day, started at 6:30 a.m., with a lot of people and things to coordinate, but a fun one! The moment I loved the most was when we closed one of the model in a huge showcase full with stuffed animals. While we were shooting, the crane activated and tried to pick our model! I loved her expression: a mix of wonder, fear and fun!
To see the editorial The Game of Couture, all other editorials and to read the latest news on fashion and events, take a look at the Switch Magazine website and order a copy! Or you could purchase it at Switch Magazine retailers. Enjoy your reading!
…I hope you like it!