Last 2018 summer we had fun doing two photo shootings around Lake Geneva. This place gave us the opportunity to work in marvelous locations and to enjoy a bit of holidays as well. The lake was a source of inspiration for us,
"I love lakes. I've always loved them. They transmit me a sense of peace. They remind me of my childhood. So, when an art director from London, Angela Heartault, contacted me for a collaboration near Lake Geneva, I couldn't say no! I was intrigued both by the mood of the shooting and by the idea of visiting those lands between France and Switzerland that I've never seen. First of all I spoke about it whit my makeup artist friend Alessio Giovannelli. I wanted to make sure we'd live this adventure together and to have the best make up." (Manuela Mezzetti)
LAKE GENEVA: WORKING IN A HOLIDAY FEELING
Let's start a one-week journey in the neighborhood of Lake Geneva in search of inspiring settings for our story. We could do two shootings. The first was set in the wide Messery countryside for Sleeping Gipsy. We loved this brand's products recovering the Vyshyvankas from the Ukrainian traditions. They reinterpreted this folkloristic dress in a more modern and fashion way.
"Katia, the company's owner, told us her path. We were charmed by the story of what she did to modernize the products. Her words enchanted us so much we asked her to be the photo's testimonial. In addition to being a beautiful woman, who could interpret the mood better? We were right! Everything came up so naturally, with complicity and harmony. It was magical! It was a perfect day, where different ethnic groups and cultures joined in a so stimulating project that I hope will be seen by a lot of people". (Alessio Giovannelli)
THE SURROUNDINGS  OF THE LAKE TURN INTO NEW YORK EAST HAMPTON
For the second photo shoot we moved to a really suggestive location. It is an abandoned villa near Lake Geneva which finds its strength in its decline. It was the ideal place to create an editorial dedicated to Gray Gardens, a 1975 documentary/interview that in the 2000s became a film.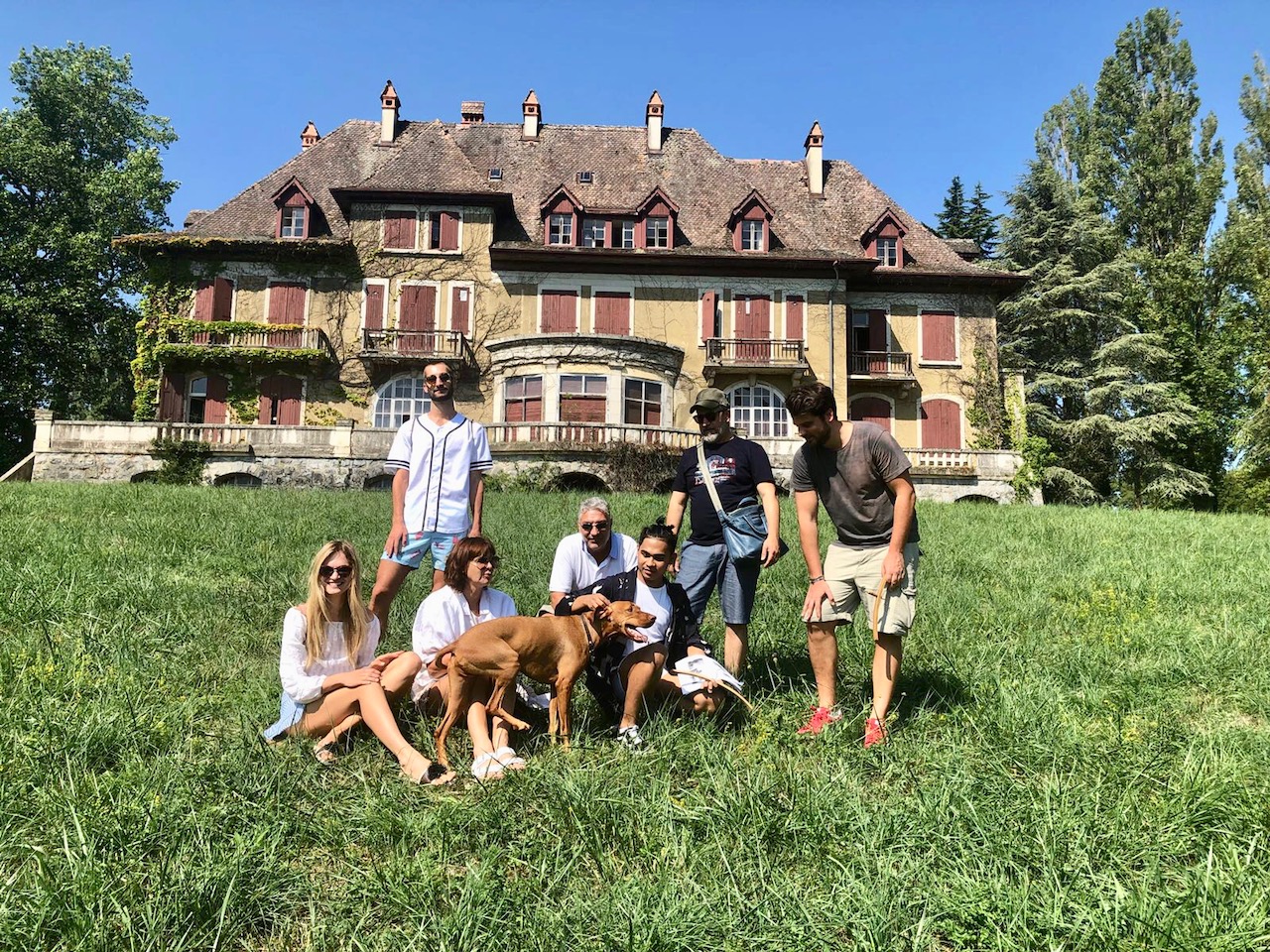 The story is about Little Edie and Big Edie Bouvier, relatives of Jacqueline Kennedy Onassis. The two eccentric protagonists lived between the '30s and the '50s in New York luxury. After the abandonment of her husband, Big Edie began an economic and social decline that led her to live in total abandonment and poverty, dragging along with her daughter Little Edie. Their fourteen-bedroom villa, as a place for high-class parties, became a filthy cage full of garbage and stray animals. The glamour of this story lies on the two protagonists' madness and eccentricity. Despite everything, they maintained a strong sense of extravagant luxury and a desire for fun. In our location, full of dust, moss, uncultivated ivy, broken wooden furniture, expensive torn wallpaper, it was as if everything oozed with inspiration.
LITTLE EDIE E BIG EDIE: THE CHARM OF DECLINE
The research on these women was very interesting. It was a shooting where we retraced their story, so unusual yet full of emotions and real life. Creating the looks for the two models was fun and intriguing, both clumsy femmes fatales. Little Edie always wore knotted headscarves, enriched with brooches and jewels to hide the alopecia. Her make-up was always shabby but she would never forget a touch of lipstick: no doubt a synonym of a certain care in completing the look. She used to keep bare legs wearing shorts and skirts. Both these items of clothing are dominant in the Autumn/Winter 2019 trends.
Also fascinating is the idea of ​​working with a model that could best interpret the personality of Big Edie: an old woman with unusual folly and eccentricity. She loved wearing many items, one on top of the other, combining materials and colors in a casual way, giving life to outfits with unexpected combinations. A sort of contemporary mix and match. Despite their poor condition, they always clang to what had once been their comfort.
NOW WE ARE READY FOR A NEW ADVENTURE!
No doubt, for us it was an unforgettable experience. The whole crew worked to create a high-level shooting and each brought their creativity to make sure the story be developed in the best way by bringing it to our days. An electrifying experience I hope you will enjoy in Elle's December Issue. Stay tuned!